Onion Production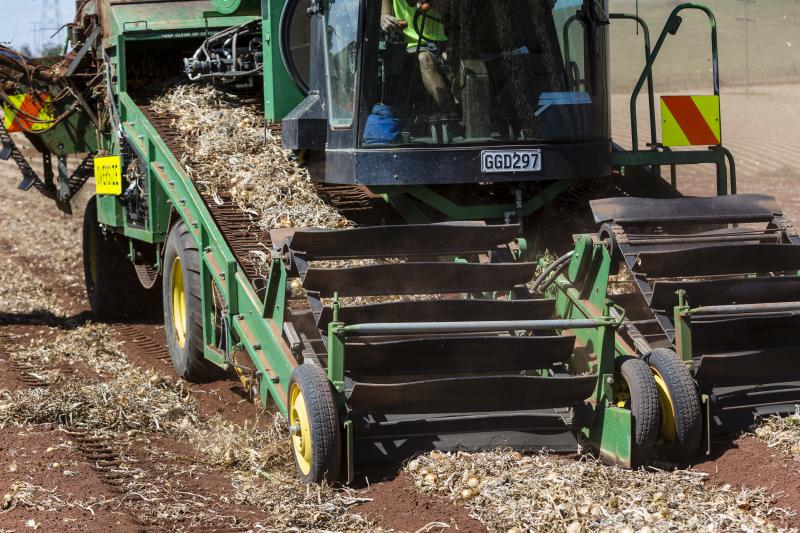 Onions are grown in most districts in New Zealand.
In 2016 5,235 hectares of onions were grown commercially in NZ, supplying the domestic and export markets. The production split was 67% in Franklin / Waikato, 14% in the Hawke's Bay, 14% in Canterbury, 5% in Manawatu / Horowhenua. Brown and red onions are grown in all districts, although the varieties of each type grown can vary between districts. Red onions now make up 11% of total area planted, with plantings up 23% on the year prior. 
Growing onions
Onion crops are seeded during the New Zealand winter starting in June with Early Long Keepers, then Pukekohe Long Keeper varieties and ending in August with the hybrid varieties. 
Onion crops are monitored closely to ensure their nutritional and water needs are meet.  Crops are grown using IPM (integrated pest management) principles and inspected frequently for signs of pest and diseases.  IPM is a philosophy of pest control based on the principles of ecology, using a number of control tactics to avoid crop loss due to pests and minimise any harmful effects on the environment. 
A key to successful implementation is knowledge of the onion crop, its pests and the natural enemies of those pests. 
Harvesting
A number of different harvesting systems are used in the industry depending on equipment and customer requirements.  The tops and roots of the onion plant are cut either mechanical or by handclipping, allowing the bulbs to be lifted out of the soil and laid in rows onto of the bed to dry. 
Once dry, bulbs can be mechanically lifted from the bed into bins for transportation to the packhouse for storage until grading. Some growers harvest directly into bulk trailers and store their onions in bulk stores rather than in bins. 
Which-ever system a grower uses, they aim to minimise the time the crop lies out on the beds to cure, exposed to the weather; and to deliver a field–cured onion with good quality skins to the packhouse.
New Zealand Onions Seasonality Chart